Happy hump day everyone! It's a few hours shy of Thursday but for what it's worth…happy Wednesday! Today we were blessed again with more rain in the AM and it cleared up nicely during the afternoon. Here is today's breakdown…
Featured Video – Bidding war on 175m Mansion!
watch?v=7Et1vuhj1po&feature=grec_index
Westside Weather
Santa Monica, CA
59°F
Current: Partly Cloudy Wind: N at 0 mph Humidity: 84%
Beverly Hills, CA
60°F
Current: Partly Cloudy Wind: E at 1 mph Humidity: 79%
58°F
Current: Cloudy Wind: NE at 3 mph Humidity: 81%
Brentwood, CA
62°F
Current: Partly Cloudy Wind: E at 2 mph Humidity: 71%
59°F
Current: Partly Cloudy Wind: N at 0 mph Humidity: 84%
Top Stories via Google News
How to of the Day
Places to See: Phuket Island, Thailand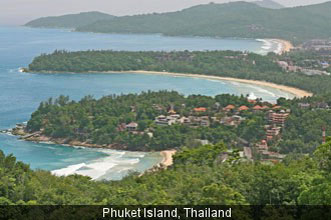 Phuket (pronounced /ˌpuːˈkɛt/ POO-KET; Thai: ภูเก็ต, IPA: [pʰūːkɛ̀t]), formerly known as Talang(Tha-Laang) and, in Western sources, Junk Ceylon (a corruption of the Malay Tanjung Salang, i.e. "Cape Salang"), is one of the southern provinces (changwat) of Thailand. Neighbouring provinces are (from north clockwise) Phang Nga and Krabi, but as Phuket is an island there are no land boundaries. Phuket, which is approximately the size of Singapore, is Thailand's largest island. The island is connected to mainland Thailand by two bridges. It is situated off the west coast of Thailand in the Andaman Sea. Phuket formerly derived its wealth from tin and rubber, and enjoyed a rich and colorful history. The island was on one of the major trading routes between India and China, and was frequently mentioned in foreign ship logs of Portuguese, French, Dutch and English traders. The region now derives much of its income from tourism.
Westside Properties is a full-service real estate boutique brokerage based in Pacific Palisades serving the entire Westside of Los Angeles. We proudly represent the finest properties throughout the Westside.
To preview the finest real estate and the best deals on the Westside of Los Angeles including Pacific Palisades, Santa Monica, Malibu, Brentwood, Bel Air, Beverly Hills, Westwood, Century City, Marina Del Rey & Mar Vista please visit our website: http://www.westsidehomefinder.com/ When you are ready to view the properties or just have a question, please contact us: 310.459.8191 or info@wsprops.com
Search for homes in your city: